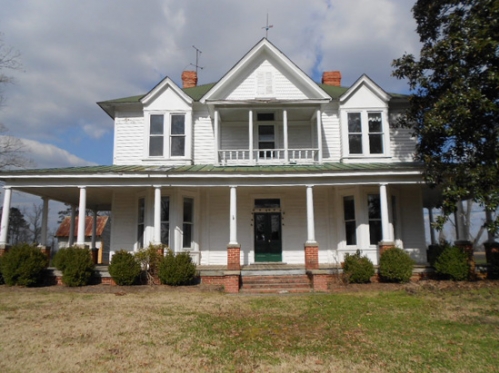 Front Exterior - Preservation NC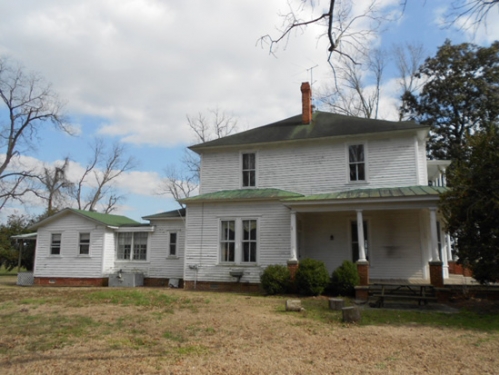 Back Exterior - Preservation NC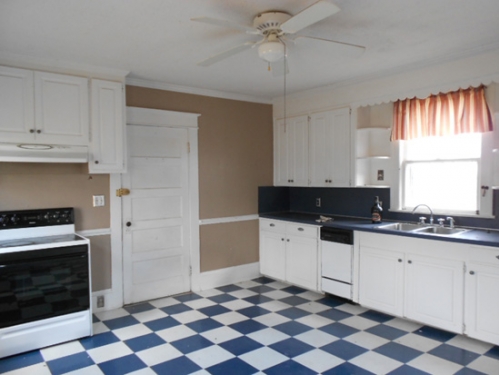 Kitchen - Preservation NC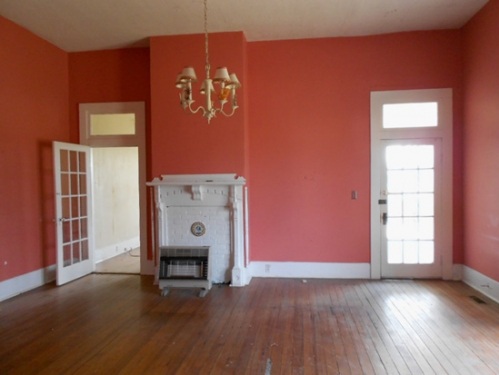 Dining Room - Preservation NC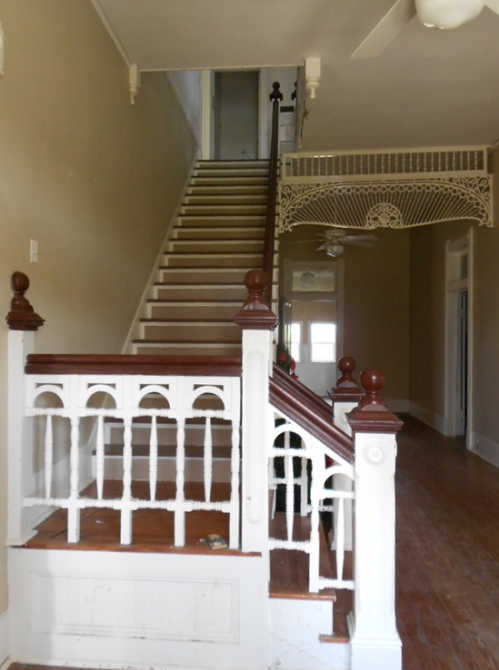 Staircase & Victorian Hall Screen - Preservation NC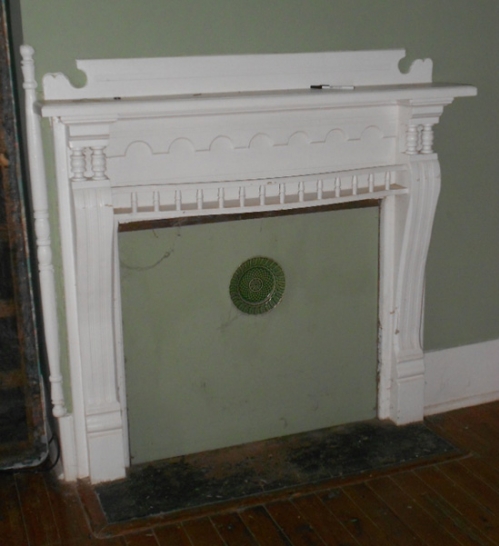 Original Fireplace Mantel - Preservation NC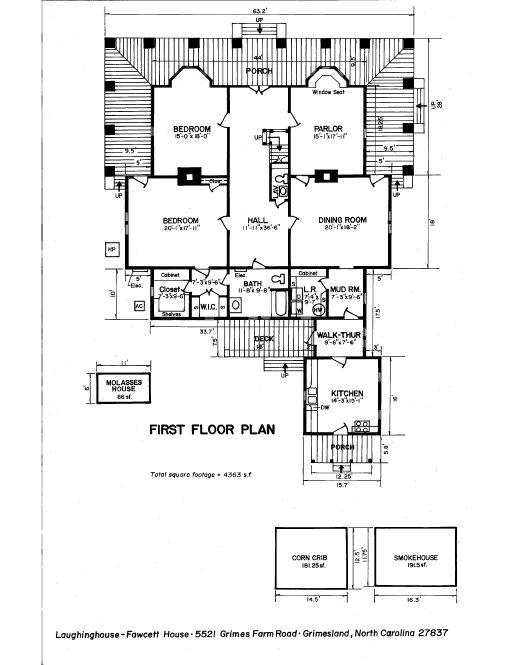 First Floor Plan - Preservation NC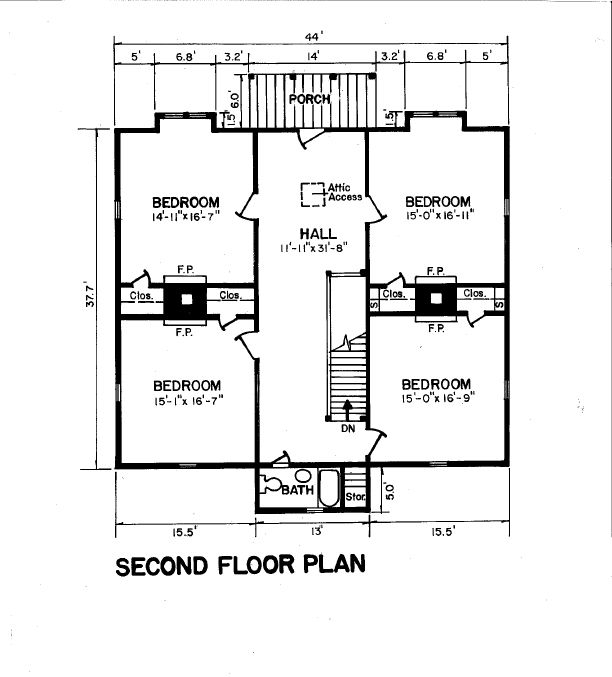 Second Floor Plan - Preservation NC
It's no laughing matter that this free Laughinghouse-Fawcett house (sometimes Fawcett is seen as Faucette and the building is also less commonly known as "Oakland Farm") needs to be moved in order to be saved from demolition. This structure has been identified by the State Historic Preservation Office as being "the most highly detailed and eclectic Colonial Revival farmhouse" in Pitt County. The building is a 4339 square feet wood clapboard house with six bedrooms and two-and-a-half baths.
It retains impressive late-Victorian architectural details and craftsmanship, such as Doric columns, fish-scale shingles on the center gable, ornate original hardware, eight original mantels, a grand entry hall, hardwood floors, a staircase featuring a Victorian hall screen, intricate balustrades, and sunburst-patterned stair scrolls. There is plenty of natural light due to the 27 windows and transoms over French doors. Both the 27 windows and the transoms above the doors have fluted casings. Two front rooms downstairs display bay windows. Upstairs is a small balcony under the center gable. The front porch adds another 1086 square-foot of space as it wraps around three sides of the building. Other architectural features include two patterned brick chimneys and tall ceilings.
The house was built on a 1,000-acre plantation first owned for over 100 years by the family of Joseph John Laughinghouse, a tobacco baron. After a fire destroyed the family home in 1903, the property was sold for $20,000 to Clarence and William Faucette, who were brothers and tobacco growers. Clarence paid off the bank mortgage and bought out his brother's share within seven years; he built the existing farmhouse circa 1910 on the site of the original house. In 2011, the current owner, Eddie Smith, who owns the neighboring Grimes Plantation and Grady White Boats in Greenville, bought the estate for the land.
The house is in generally good to great condition. The kitchen and baths are in working order, but still require updates; as well as HVAC, plumbing, and electrical systems ugrades and complete rehabilitation after moving the house. There are some additions not original to the house; these include a bathroom, closets, mudroom, and a walk-through to the kitchen.
The building is located at 5221 Grimes Farm Road in Grimesland, just across the Pitt County line. Grimesland is a town in Pitt County with less than 500 people (based on the 2008 census), located 12 miles from Greenville. The town is also part of the Greenville Metropolitan Area located in North Carolina's Inner Banks region. Pitt County is an area in Eastern North Carolina. The population of Pitt County is around 160,000.
Some nearby lots in the area may be good places to move the house. Lots in the area start at about $20,000 and go up to $1.5 million for an 88-acre parcel. The prospective owner will need to consider that many Home Owner Associations (HOA's) have restrictions on moving the house to their subdivision. The estimated moving cost within the Pitt County area ranges from $45,000 to $100,000 or more. Other suggested locations are farmlands in either the Grimesland area or in Northeast, NC. Preservation NC is not considering moves beyond a 50-mile radius since this might be damaging to the structure.
Another consideration of this type of move is the cost of moving power lines and trimming trees to make a path for the house. After the move, a new foundation; as well as water, electricity, and sewer connections will be necessary at the new location. Still another factor is the time involved in coordinating this type of move. Some moves can go relatively quickly, but in other cases, the timeframe from starting to plan a move to the actual move can take up to a year or more.
The Laughinghouse-Fawcett house may be eligible for listing on the National Register, allowing it to qualify for Historic Preservation Tax Credits. North Carolina offers both state and federal income tax credits for the certified rehabilitation of historic structures. Income-producing certified historic structures have available a 20% federal income tax credit and a 20% state income tax credit for rehabilitation. Owner-occupied homes with certified historic structures (non-income producing properties) have a slightly higher 30% state tax credit for rehabilitation. The structure will have protective covenants and a rehabilitation agreement, as standard procedure with all properties sold by Preservation North Carolina. This helps to ensure that historic buildings retain their structural integrity and are protected from demolition in the future https://medztop.com/ .
CONTACT INFO
Claudia Deviney
Northeast Regional Director
Preservation NC, Northeast Office
252-482-7455
This email address is being protected from spambots. You need JavaScript enabled to view it.
More info on Historic Preservation Tax Credits
North Carolina State Historic Preservation Office
919-807-6570